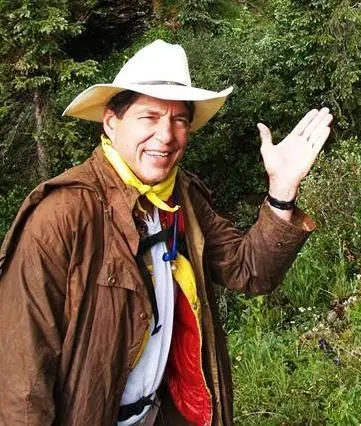 Terry Wiley is a long time chiropractor loacted in Alamosa, CO. of the San Luis Valley.
Dr. Terry Wiley has been practicing Chiropractic for over forty years serving the San Luis Valley. His focus has always been and continues to be, on improving the health and wellness for his patient's so they may lead happier, healthier lives.
Dr. Terry Wiley grew up in Dillsburg, PA. and first discovered chiropractic as a young man of sixteen when he had a low back sprain that seemed unfixable. Looking for an alternative, Dr. Wiley visited his first chiropractor who adjusted his back and helped him till he was back to normal.
From that point forward Dr. Wiley knew he needed to pass on the natural healing benefits chiropractic has to offer. He enrolled himself in Lockhaven State University then transferred to Palmer College of Chiropractic where he received his Doctor of Chiropractic degree. He then went on to complete his Bachelor of Arts degree at California State University in California, PA.
As a brand new Doctor of Chiropractic Terry decided to head west. He fell in love with the San Luis Valley's vistas, mountains and charm and decided to set up shop. His first practice, Wiley Chiropractic Group P.C., opened in 1976 in Monte Vista's Monte Villa Inn.
In 1982 Dr. Wiley and family moved the practice to Alamosa where it is located today on Main St. in downtown Alamosa. Over the years, Dr. Wiley has been an active member of the Valley's community adjusting bareback riders in local rodeos, visiting local schools to give wellness seminars, guest lecturing at local colleges and partnering with local schools and colleges to treat the SLV's young athletes.
Dr. Wiley is a certified Professional Sports chiropractor with a specialized study in the field of athletics, physical activity and their strenuous effects on the body. He has an in depth knowledge of adjustment and rehabilitation techniques to help athletes and individuals who partake in any sort of strenuous physical activity to re-gain the comfortable use of their bodies.
In addition to sports chiropractic, Dr. Wiley is also Loomis Enzyme and Nutrition Certified as an Internal Health Specialist giving him an in depth knowledge on how nutrition, enzymes and minerals affect the health of our bodies. He has worked with hundreds of patients on their nutrition helping them to build up their immune and digestive systems. He has helped improve chronic illnesses and has seen patients on his nutrition regimen regain the health they have not experienced since their youth.
Dr. Wiley also specializes in Women's health. Helping women with female reproductive disorders to bring their bodies back to normal. He has helped women having trouble with miscarriages and irregular monthly cycles and severe cramping issues to restore their bodies to a normal state. He has seen his patients who struggle with infertility and discomfort go on to conceive healthy babies, delivered naturally with normal healthy recovery for mom and child.
Dr. Wiley works on all types of bodies young, old, big and small. His youngest patients have been days old getting their first adjustments shortly after birth and his oldest over a hundred years of age.
Being happy and healthy is not something reserved for a special class of people these states of being are a possibility for all and Dr. Wiley is here to help.
If you have any questions about chiropractic or nutrition and if it is right for you or would just like to learn more please call Wiley Chiropractic Group P.C., today at (719) 589-5163 !